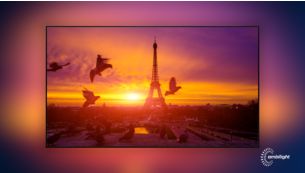 Ambilight. Take the emotion beyond the screen.
With Philips Ambilight, movies and games feel more immersive. Music gets a light show. And your screen will feel bigger than it is. Intelligent LEDs around the edges of the TV cast on-screen colors onto the walls, and into the room, in real-time. You get perfectly tuned ambient lighting. And one more reason to love your TV.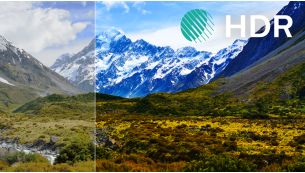 Experience better contrast, color & sharpness with HDR Plus
High Dynamic Range Plus redefines in-home entertainment. Experience a sensory journey with its advanced processing power. Capture the richness and liveliness of the content just as the creator intented. Get ready to enjoy brighter highlights, greater contrast, a broader range of colors and detail like never before.
Micro Dimming optimizes the contrast on your TV
Thanks to our special software that analyzes the picture in 6400 different zones and adjusts it accordingly, you'll enjoy incredible contrast and image quality for a truly lifelike visual experience.
Ultra-slim frame with aluminum-colored bezel & stand.
Modern European Design is visible in the floating aluminum stands finished in dark silver matching the ultra-slim bezel.
Pixel Precise Ultra HD. Fluid images with incredible depth.
The beauty of 4K Ultra HD TV is in savoring every detail. Philips Pixel Precise Ultra HD engine converts any input picture into stunning UHD resolution on your screen. Enjoy a smooth, yet sharp moving image and exceptional contrast. Discover deeper blacks, whiter whites, vivid colors, and natural skin tones – every time, and from any source.
SAPHI. The smart way to enjoy your TV.
SAPHI is a fast, intuitive operating system that makes your Philips Smart TV a real pleasure to use. Enjoy great picture quality and one-button access to a clear icon-based menu. Operate your TV with ease, and quickly navigate to popular Philips Smart TV apps including YouTube, and more.
4K Ultra HD is unlike any resolution you have ever seen before
Ultra HD TV has four times the resolution of a conventional Full HD TV. With over 8 million pixels and our unique Ultra Resolution Upscaling technology, you'll experience the best possible picture quality. The higher the quality of your original content, the better images and resolution you will be able to experience. Enjoy improved sharpness, increased depth perception, superior contrast, smooth natural motion, and flawless details.
Philips Sound Processing for accurate audio.
DTS HD optimizes sound processing by preserving the original sound content so that you can enjoy a better sound from your speakers with crystal-clear dialog.