Product Description
Want to make a call as you work on your desktop? Bring home the Panasonic KXTG-3615BX 2.4 GHz Cordless Phone and multitask while you're on a call.
Illuminated Display
The alphanumeric display and keypad let you save the names and numbers of the important contacts. You can use this phone in the dark as its keypad and display are illuminated.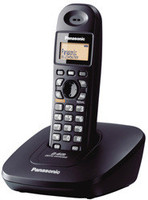 Alarm Clock
Don't be late for early morning meetings. This cordless phone comes with an alarm clock that ensures you wake up on time.
Hands-free speakerphone
Chat with your friends even while you're busy cooking or cleaning, thanks to this phone's hands-free speaker mode.
Caller ID
You can store up to 50 contacts in the phonebook. The caller ID feature gives you a heads up on who's calling.
Power
This phone is powered by a rechargeable Ni-MH battery pack.