Product Description
Bring home the Panasonic KX-TG3811SXB Cordless Landline Phone and answer calls from anywhere in the house.
100 Phonebook Entries
Store up to 100 names and numbers of your frequently dialed contacts in this phone's memory using its illuminated alphanumeric keypad.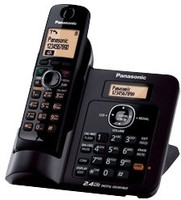 Call Barring
If you wish to restrict someone from calling you, you can easily add that number to the barred numbers.
Dual Dialing
Both the cordless handset and the base unit have keypads, so you can dial in a number from either unit.
Wall Mountable
This phone's base unit can be either placed on a tabletop or mounted on a wall.